​Apple Pay Casinos 2022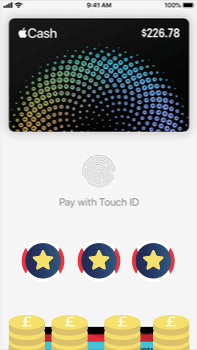 If you have an Apple device (i.e. iPad, iPhone, iWatch etc.) then it is likely that you will have heard of Apple Pay. You may have even used it a few times yourself. However, did you know that you can use Apple Pay at various online casinos in the United Kingdom? It is ridiculously simple to do too. Let's take a look.
What is Apple Pay?
Apple Pay is a payment method devised especially for those who use Apple devices. We have no idea if it is planning to be rolled out onto other devices, but we wouldn't bet on it. This is Apple's thing. When you set up an Apple Pay account, you will be asked to give your debit card details. These will then be linked to your account. Whenever you pay using Apple Pay, the money will be instantly deducted from your linked account. Sort-of like PayPal, just different in a few ways…mostly in terms of how you actually make your payment to Apple. Although, we are going to talk more about that in a short while.
The only 'slow' part of the process will be the verification from your bank that your card details can be linked to Apple Pay. However, this is something that you will only need to do once. In the grand scheme of things, it is pretty fast anyway.
Why Use Apple Pay?
This is, without a doubt, one of the fastest methods for getting money into your online casino account. There is no processing time. The second you have completed the transaction, the money is going to be sitting there, waiting for you to gamble with. Obviously, gambling with Apple Pay also means that you do not have to worry about handing off your credit card details to any online casino. It is a completely secure method of payment.
It probably helps that it is so simple to use too. There is no messing about, trying to get your bank details or credit card. You just load up Apple Pay and you are ready to go.
Depositing Funds at an Online Casino Using Apple Pay
Using Apple Pay at an online casino is dead simple. To start with, you will need to head on over to the online casino and select the 'Apple Pay' method for deposit. You can then tap in details of how much you wish to deposit into your account.
Once this is done, you will be given a code that you can use. You will then be taking this code over to your Apple device (so make sure that you have it handy), where you are, essentially, verifying the transaction. You will, of course, need to provide authentication for the transaction. Once this is done, the money will be placed into your online casino account, and you will be able to start gambling with it right away.
Do note that Apple Pay is designed to be a free method of depositing cash into your account, but we have seen a few online casinos who charge for this service. Make sure that you know what you are getting into before you deposit any cash.
Withdrawal of Funds Using Apple Pay
Sadly, if you use Apple Pay, you will only be able to deposit. You will need to use another method if you want to withdraw money from the online casino. We do not see this changing any time soon. Apple has yet to devise a way to receive cash using Apple Pay and, until they do that, no online casino will be able to offer this as a withdrawal method.
Thankfully, it is mostly 'top casinos' that use Apple Pay to receive payments. This means that there should be several different withdrawal options for you to enjoy. They will be quite affordable too!
Finding an Online Casino That Accepts Apple Pay
The problem with Apple Pay right now is the fact that there aren't really all that many online casinos that accept it as a payment method. This s because the number of people that use it is quite limited. However, as the popularity of the deposit method starts to pick up, then we reckon that most online casinos will allow Apple Pay.
Beyond this, we have listed some recommended Apple Pay casino sites below. However, if you want to do your own research then we recommend that you make sure that the online casino has a licence to operate in the United Kingdom. If there is no licence, then give them a skip. You are not going to be safe if you end up gambling there. Trust us on that one. Don't forget to think long and hard about the types of games that you want to play too. Not just games that you are planning to play right now, but games you may wish to play in the future.
We like our Apple Pay online casinos to have a massive selection of games that we can play. If you don't want to go through the hubbub of tracking down an online casino for Apple Pay yourself, then check out the list below. These are some of our favourite online casinos to gamble at, and all of them accept Apple Pay. Failing that, you can also read through the plethora of UK casino reviews we have put together for you!
Apple Pay FAQ's
Below you will find answers to the most commonly asked questions about Apple Pay casinos UK. If you're new to using Apple Pay or even new to playing at online casino sites and want to fund your account using Apple Pay, they the FAQ's below will help you get started. We must add, however, if you're an Apple user you will highly likely find it very straight forward to use at online casinos.
💎 What is Apple Pay?
Apple Pay is a payment service provided by Apple.com and is designed for mobile users. Apple Pay enables users of all Apple devices (such as iPhone and iPad owners) to pay for goods and services on the go with the "Apple Pay App". Casinos have begun to integrate this payment method to allow all iOS users to deposit into their casino account and as such, Apple Casinos make it very easy for Apple uses. It's simple and effective but above all - a really safe payment method as well.
💎 Is Apple Pay Safe?
Apple Pay is a banking method at online casinos that offers instant deposits, low fees and very secure transactions. Like other safe payment methods like PayPal, using Apple pay at online casinos means you do not have to enter any personal payment details as you will be directed to your app to approve any payment/ transaction.
💎 Does Apple Pay Cost Anything or Take Fees?
One of the greatest advantages of using Apple Pay casinos is that there are no processing fees that some other payment processors charge. Neither Apple Pay deposits nor Apple Pay withdrawals come with further charges. Instead of charging their users, Apple Pay does, in fact, charge casino operators the fees instead! Make sure you keep in mind however, that you may incur a charge to fund your Apple Pay account in the first place. For example, using credit cards to fund your Apple Pay account usually comes with a 3% charge (on the deposit amount to your Apple Pay App). If you charge your Apple Pay account with your Debit card or Apple Pay Cash, then there are no fees associated whatsoever, making it a very low-cost payment solution.
💎 What are the deposit limits with Apple Pay?
This wholly depends on on the Apple Pay Casino you intend to play at as they set the minimum and maximum deposit and withdrawal limits. Some Apple Pay Casino sites set it at £5 but often you will find that £20 is the average deposit minimum. The same goes for withdrawals too, it really depends on the casino you are playing at. We always recommend checking with the Apple Pay online casino before you get started.